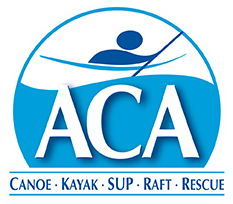 One of two professional paddlesports Instructor Endorsements within the ACA Universal Paddling Program, Adaptive Paddling Workshops (APWs) provide the information necessary to seamlessly integrate individuals with physical disabilities into outdoor recreation programs in the context of paddlesports.
APWs focus on five key topics: (1) Language, Etiquette and Interaction, (2) The Legal Context, (3) Cultivating Seamless Integration, (4) Adaptive Outfitting Concepts & Goals, and (5) Mechanics of Adaptive Outfitting for Paddlesports.  APWs involve hands-on learning in a classroom and in calm, protected waters.
ACA trained individuals can now be found in nearly every adaptive paddlesports program throughout the country.   This ACA credentialing program is truly the gold standard accreditation for adaptive paddlesport instruction.
For paddlesport participants with physical disabilities, the ACA APW offers a perfect opportunity to learn from experts about how to modify kayaking, paddle-boarding, rafting, or canoe equipment to paddle comfortably, safely and with a high level of performance.
Adaptive Expeditions will help organize an ACA APW for your adaptive outdoor recreation program.  Adaptive Expeditions can provide this instructor credentialing course with a focus on adaptive kayaking, adaptive rafting, adaptive stand-up paddling, or adaptive canoeing.
Please contact us early in the year to schedule these very popular workshops.
Check our calendar of events to join a currently scheduled APW.
Please support our efforts to bring the ACA APW to other organizations around the world.