Adaptive Expeditions is an interactive educational nonprofit using sport and recreation to offer critical health & wellness programs to individuals with physical and sensory disabilities. Through education and outdoor recreation adventures, Adaptive Expeditions empowers individuals with both technical skills and personal confidence to maintain active, independent lifestyles.  We aim to build a community where outdoor adventure seekers and Paralympic hopefuls can share ideas and common experiences, have fun, push limits, and redefine what's possible.
Board Officers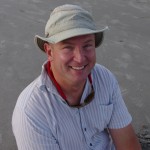 Joe Moore, J.D., LL.M.
Founding Executive Director
Adaptive Paddling Instructor Trainer, SUP Instructor & Coastal Kayak Instructor. Leads Training, Paddlesport, Swimming & Aquatic Safety, and Sailing programs.
---
---

    Natasha Stevens
Corporate Secretary
Outreach Projects Manager & Adaptive Yoga Instructor. Adaptive Expeditions lead volunteer for Yoga & Fitness programs.
---
---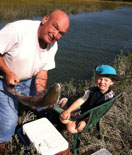 Charles James Moore, M.S.
Corporate Treasurer
Marine Biologist.  Retired Supervisor of Finfish Management for State of South Carolina & Stewardship Coordinator of the ACE Basin National Estuarine Research Reserve.  Adaptive Expeditions lead volunteer for Natural History Interpretation, Photography & Fishing Programs.
Board Members
Occupational Therapist specializing in use of adaptive sports as an alternative means of achieving desirable health and wellness outcomes.
---
---

      Leigh Moscowitz, Ph.D.
Assistant Professor of Communications, University of South Carolina.  Advises Adaptive Expeditions on all communications, messaging and public relations.
---
---

      Roger L. Banks
Retired U.S. Fish & Wildlife Field Supervisor of the Charleston, South Carolina Ecological Services Office. 2005 Distinguished Service Award, which is the highest honorary recognition an employee can receive within the Department of the Interior. Advises Adaptive Expeditions on government relationships and acts as volunteer coordinator for hunting, fishing and natural history interpretation.